Do you ever wonder who plants and maintains the wonderful Western Conservancy gardens at Pep Boys?--- We do.

What about the delicious baked goods you will find at the municipal building on election day? You're right- we do!!!

Whether your interest is in supporting women's shelters, the Veterans Hospitals, or any of many other volunteer activities, you will find our members helping their neighbors and families. Add to that interesting programs, fund raisers, and a great society of women and you can't go wrong.
Our Mission
The purpose of the Century Club shall be to maintain an organized center for women's activities, to promote any work for the civic, social and educational development of the community, and to promote the program of the General Federation of Women's Clubs..
Spaghetti Dinner 2004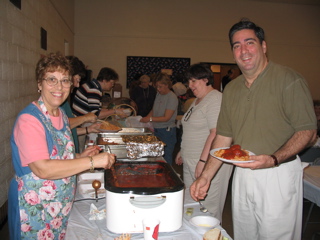 A Satisfied Customer
Meetings are held on the Second Tuesday of the Month from September to May.
7:30 p.m.
The Irene Pohl Municpal Building
110 Peffer Road
Wilkins Township, PA
*******
Our Annual Holiday Reciprocity
Cover Dish Dinner
featuring
The Woodland Hills
Chamber Choir
December 13, 2005
6:00 p.m.